December 18th, 2009
Evidently, sold two of these prints. I am thrilled as I feel it is a really nice piece of work and have had many compliments on it. I think the photo file is two big for this venue but you can see it under my artwork. I am blogging on Blogspot regularly now. http://bit.ly/OpLas
December 18th, 2009
Evidently, sold two of these prints. I am thrilled as I feel it is a really nice piece of work and have had many compliments on it. I think the photo file is two big for this venue but you can see it under my artwork. I am blogging on Blogspot regularly now. http://bit.ly/OpLas
August 29th, 2009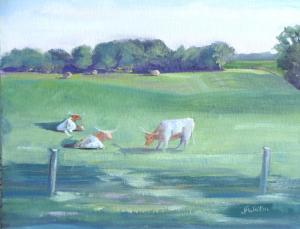 Wow, a whole month since I posted. Well, I have been painting! Every Monday at the Longhorn Ranch. Fantastic vistas, pond views, cattle views, birdhouses and flowers. My biggest problem is photoing! I never seem to get them light enough and have to edit the photos. Then I painted at Put-in-Bay at Lake Erie and left my two paintings there! My daughter will bring them back next week but I really wanted to touch them up. I am attempting to paint 3 paiintings a week although some will be commissions for Christmas.
July 30th, 2009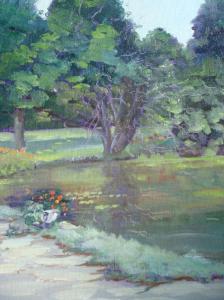 Finally some new paintings. A sunset scene sold at Lakeside and the photo turned out poorly and won't upload good here but it can be seen on my Facebook page. I have more but they need some work. and the uploaded ones are in a competition that I should hear about acceptance Aug. 15. In meantime will be fixing up paintings and painting more. Mom is in assisted living now and I have so much more time to paint.
May 25th, 2009
Finally got to at least photo the last two paintings that were done 2-3 weeks ago. Unable to paint as I am doing 24 hr care for my Mother right now until I get some assistance and get her into assisted living.